After living her life outside for nine years Spirit found herself out of a home when her elderly owners moved into senior housing.   The Manitoulin Pet Rescue heard about her and offered to take her and re-home her.
When Spirit came to me she was very overweight and severely matted.
She has been with me for a couple of days.  On first trip to the vet she weighed in at an astonishing 101 pounds.   She should weigh between 50 and 60 lb.
But for all her extra weight she is surprisingly agile and jumped with her front paws on the table to get a treat from the veterinarian.   So  it is a diet for her. I will also be walking her every day and working on getting the mats out.    I might have her shaved as they are quite thick and close to the skin.    From the picture you will see that I also need to lose weight and get healthy, so I have decided to diet with her.   Lets see who loses 40 lbs first.
.!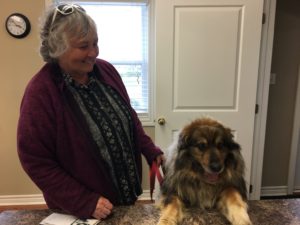 So here we are going for our walk. You really can see the difference between the two dogs.  Spud on the left is  a healthy, fit, 55 pounds and Spirit is like a table top.   Follow us  for updates on Spirits and my weight loss journey!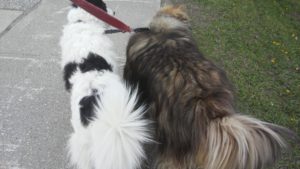 Spirit is severely matted and the mats were pulling on her making it painful to play.  I spent several days working at the mats trying to get them out, but finally realised that they were so close to the skin that here was no option but to have her professionally groomed.   She had some difficultly getting up on the grooming table even thought we lowered it and gave her some steps but she was willing and eventually we got her up there.     It took quite a time to shave
Now Spirit can get up into the car but still needs the steps.
Now she can start enjoying being a dog.  Lots of walks with my dog Spud will help with the weight loss.
Now after 3 weeks  another vet visit to see how the weight loss is coming along, but  the scales only show a 2 lb loss. Considering that amount of exercise she is getting it was decided to do some bloodwork to see if there is an underlying medical condition that might be hindering her weight loss.